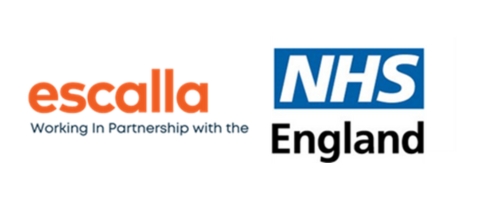 Press Release: 4th April 2023
NHS England and escalla are proud to reveal that the collaborative bespoke learning programme, "

Handling Difficult Situations with Compassion: Caring for yourself and others"

has been shortlisted for the '

Enhancing Workforce Engagement, Productivity and Wellbeing through Digital' award

at the inaugural HSJ Digital Awards, recognising outstanding contribution to healthcare and earning the opportunity to showcase their achievements on a national platform.

 
The pressures faced across the healthcare sector haven't been far from the headlines over the past 12 months – yet the quality and overriding positivity of the award entries this year highlight the enduring devotion of workers within the health and social care sector, dedicated to improving patient outcome.
An impressive 314 entries have been received for the HSJ Digital Awards 2023, with 164 projects and individuals making it to the final shortlist (from across 120 organisations). The high volume - and exceptional quality – of applications is once again reflecting the breadth of innovation and care across the UK's health and care systems. 
In its opening year, the HSJ Digital Awards aims to shine a light on the outstanding efforts and achievements that individuals and teams across the digital sector deliver on a daily basis. 
The judging panel was once again made up of a diverse range of highly influential and respected figures within the healthcare community, including; 
Ifan Evans (Executive Director, Digital Strategy, NHS Wales), Dr Nnenna Osuji (Chief Executive, North Middlesex University Hospital NHS Trust), Jonathan Cameron (Deputy Director - Digital Health and Care, Scottish Government), Ronke Adejolu, National Associate Chief Nursing Information Officer, NHS England), Masood Ahmed (CCIO, NHS Midlands) and Ananta Dave (Chief Medical Officer, Black Country and West Birmingham ICB).
Following the thorough judging process, NHS England and escalla were shortlisted, ahead of the official awards ceremony to be held later this year (June 22nd). Despite the tough competition, '

Handling Difficult Situations with Compassion: Caring for yourself and others'

really did stand out as a 'success story' worthy of a prized place on the panel's shortlist. At this first stage of judging, the shortlist was based on ambition; outcome; value; involvement & working together and crucially, how the project might be "picked up" and replicated elsewhere for the benefit of both patients and professional colleagues.
'Handling Difficult Situations with Compassion: Caring for yourself and others' was

designed to give frontline, patient-facing NHS workers the skills and techniques to handle difficult situations with compassion, including using appropriate communication techniques and active listening skills. The training, which supports the NHS People Promise "We are safe and healthy" commitment, also focuses on looking after your own wellbeing and how to safely seek support if needed.
The training, which was commissioned by NHS England, was made available at no additional cost to both clinical and non-clinical NHS colleagues across the country. Colleagues learnt how to manage the rise in aggressive and threatening behaviour, as well as the skills to de-escalate and support patients in distress. Overall, participants reported a 95% satisfaction rate and a 25% boost in confidence.
David Field, MD at escalla comments, "This really is wonderful news - the fact we've been shortlisted for this award will undoubtedly be a huge 'pat on the back' for our amazingly hard working and deserving team. 
"Developing this programme with NHS staff, for NHS staff, has been a huge honour. The programme feedback has been fantastic, with participants not only feeling more confident in the workplace but being able to take those soft skills into their personal lives, too. Aligning with the HSJ Digital Awards programme really allows us to share our success as well as everything we've learnt through implementing our project. 
"Helping NHS England in supporting staff to feel valued has been a privilege. The ultimate hope is that, in time, this will improve things like retention, because staff will feel supported by their organisation."
HSJ editor Alastair McLellan, adds; "On behalf of all my colleagues, it gives me great pleasure to congratulate NHS England and escalla on being shortlisted as a finalist in the category of '

Enhancing Workforce Engagement, Productivity and Wellbeing through Digital'

. All of the applications represent the 'very best of the NHS' and often leave our esteemed panel of judges with an impossible choice! 
"We're all very much looking forward to welcoming our finalists to the awards ceremony in June, celebrating their impressive achievements and jointly acknowledging our values of sharing best practice, improving patient outcomes and continuously driving for better service. But we never forget that the award ceremony is not just a celebration within a night, but a platform to recognise the hard work of all our NHS staff, all year round."
The selected winners will be announced during the awards ceremony at Manchester Central on June 22nd 2023.