Interview with Wakefield Council: Revenues and Benefits Apprentices, 6 Months On!
APPRENTICESHIP: LEVEL 4 REVENUES AND WELFARE BENEFITS APPRENTICESHIP
PROVIDER: ESCALLA APPRENTICESHIPS
CLIENT: WAKEFIELD COUNCIL
In September 2018, Wakefield Council became the first local authority in the UK to sign level 4 Revenues and Benefits apprentices.
Six months on, Sandeep, escalla's trainer for this apprenticeship standard, caught up with Wakefield Council to see how things were going.
INTERVIEW
SANDEEP: Sandeep Singh Bansil, Apprenticeship Trainer
ANTHONY: Anthony Derbyshire, Business Development Manager at Wakefield Council
APPRENTICE: One of Wakefield Council's Revenues and Benefits Apprentices
SANDEEP: "Hi guys. So you began this Revenues and Welfare Benefits Apprenticeship nearly 6 months ago now. How has it been going?"
ANTHONY: "We are really happy with the apprenticeship training and the level of support being provided. The programme is now well underway and our learners have already received two blocks of Council Tax and Benefits training."
APPRENTICE: "Yes it's been good. I started working for Wakefield Council's revenues and benefits department just before my apprenticeship started. I might have been slightly apprehensive about studying for a level 4 apprenticeship, but escalla has been very supportive and delivered the training at just the right level for us."
SANDEEP: "Anthony, why did you decide to partner with escalla to train your Revenues and Benefits apprentices?"
ANTHONY: "Because we know our apprentices are in safe hands. Essentially, we chose to partner with escalla because of their experience of apprenticeship delivery."
SANDEEP: "Have you worked with escalla in the past?"
ANTHONY: "Yes, we've worked with escalla before to train new starters, and were very pleased with the quality of their training programmes."
SANDEEP: "Can you tell me more about your experience of the apprenticeship delivery so far?"
ANTHONY: "We have regular meetings with our apprentices' trainer. This keeps us up-to-date with the progress they're making. It also gives us chance to discuss the tasks we'd like them to do, and how it will fit in with their training."
APPRENTICE: "In terms of training, I've already been through both the Council Tax and Benefits classroom-training sessions. I've also been encouraged by my trainer to do other e-learning and classroom courses. This apprenticeship with escalla has allowed me to do a lot of personal development learning alongside my revenues and benefits work."
SANDEEP: "That's good. escalla put a big emphasis on personal development for apprentices. That, and close support."
APPRENTICE: "Yes I receive a high level of support. My apprenticeship trainer carries out a review with me every five weeks to discuss my progress. It's also a chance to talk about any concerns, and my targets and how I can meet them. I've also been allocated a mentor from escalla's Senior Management Team."
SANDEEP: "Great. So finally, how would you rate your overall experience of this apprenticeship with escalla so far?"
APPRENTICE: "I'd say escalla have been very helpful and supportive during my training so far, and I am really happy to be taking on this apprenticeship with them."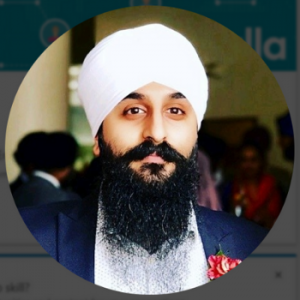 Sandeep Singh Bansil
Trainer at Escalla: Apprenticeships For Employers