Read the interview with Premier IT's new Digital Marketing Apprentices:
APPRENTICESHIP: Level 3 Digital Marketing Apprenticeship
PROVIDER: Escalla Apprenticeships
CLIENT: Premier IT – Specialists in workforce planning, development and performance software for the healthcare sector.
For National Apprenticeship Week #NAW2020, we interviewed two of our new learners who started their digital marketing careers and apprenticeship training this year.
Read on to find out why they chose a career in digital marketing and decided on the apprenticeship route, instead of going to university.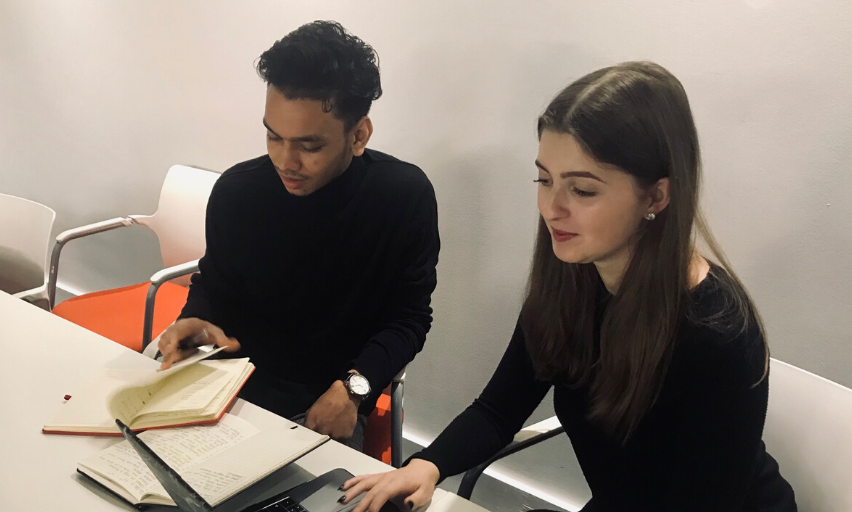 Ahmed & Megan - Premier IT's Digital Marketing Apprentices
INTERVIEW
Laura West: Digital Communications Officer at escalla
Ahmed & Megan: Premier IT Digital Marketing Apprentices
Laura: Hi guys, thanks for taking part in this interview today.
Please can you tell us why you decided to do an apprenticeship, instead of going to university?
Ahmed: I was planning to go to uni but found the academic style of learning was not my thing. I prefer the more practical and hands on experience I get from an apprenticeship, rather than sitting in a lecture room taking notes.
Megan: Going to university was never, ever an option. I knew there was a better way to start my career without being in debt, and that was an apprenticeship. The idea of earning as you learn is what stood out to me, and this apprenticeship with Premier being my first ever job is quite an achievement in my eyes, it's going to give me a lot of experience.
Laura: What do you like most about your role at Premier IT? 
Ahmed: I love working independently. It gives me the opportunity to develop a creative responsibility – with my own posts and innovative ideas to reach new audiences and clients.
Megan: I also enjoy working independently and I'm excited to increase social media followers, especially using my photography skills. I want to strengthen my skills in Adobe and Microsoft software as well as email marketing. I hope to become a more confident individual as I find myself doing things I'd normally be sceptical of like speaking in front of large groups, phone calls, communicating my thoughts and the processes behind them.
Laura: Why did you decide on a career in Digital Marketing?
Megan: I knew I wanted to do an apprenticeship in the creative sector somewhere, but I didn't know exactly what. I'm a big lover of technology, digital media, anything related to those categories and I wanted to make sure I found a job where I could use all of the skills I already had, and also learn new things out of it. In Digital Marketing I get to use my social media, photography, graphic design and IT skills to contribute to the company and help increase their social media presence and reputation.
Laura: What are your ambitions and career goals?
Ahmed: My goal is to progress to the next level and move more into the field of marketing through doing a Level 4 Marketing Executive apprenticeship
Megan: I'm looking forward to completing this apprenticeship and progressing onto a higher digital marketing role or something similar.
Laura: Thanks Megan and Ahmed for taking the time to share your experience with us and good luck with your apprenticeship and future career.
Thinking about an apprenticeship?
If you're like Megan and Ahmed and like the sound of a digital apprenticeship, then please get in touch.
Here's everything you need to know about becoming an apprentice with escalla. Or find out more about getting into digital marketing.
Thinking of hiring an apprentice?
If you're a business and would like to know more about the benefits of hiring an apprentice, please register your interest.