Am I too old for an

A

pprenticeship?

 
Apprenticeships are often heralded as the new career path for young people and as a great alternative to university. W

hile this is definitely the case, there is still a common misconception that apprenticeships are only for young people. So, can you do an apprenticeship at any age? Yes! There is no apprenticeship age limit.
There are many ways apprenticeships can not only benefit older people but can also be beneficial for their careers - from upskilling to restarting in a new field.  
Apprenticeships aren't just for young people and here's why...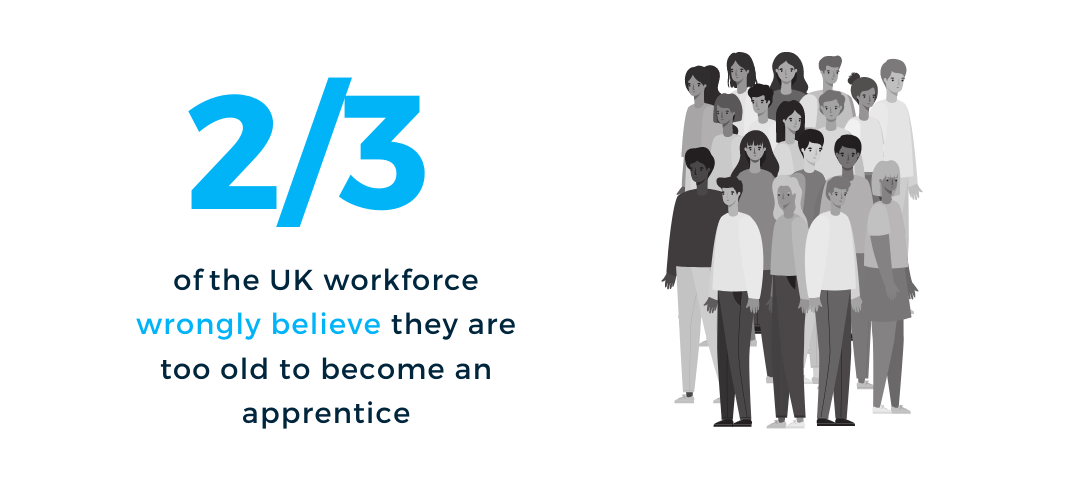 The 

Practicalit

ies – Can you do an Apprenticeship at any age?
So, what are the practicalities of completing an apprenticeship as an older candidate?  
Two thirds of the UK workforce wrongly believe they are too old to become an apprentice and that the age barrier is between 16-24. This is a missed opportunity! 
Despite this misconception, you can do an apprenticeship at any age. Apprenticeships are available to anyone over the age of 16, living in England and have no upper age limit. 
The main limitation exists in people's minds – believing that it's too late to make a career change or up their skills game.  
In reality, there's no cookie cutter image of what an apprentice should look like. The working age is increasing every year, therefore people's careers have plenty of options to evolve and change with the times.   
Rob Brouwer, CEO of Jobrapido said: "We live in an era where a job is no longer a job for life and in fact many could have at least two or even three different careers in their working life." 
In fact, the government openly says that to take on an apprenticeship as an adult is perfectly legitimate and should be "welcomed and supported".  
Despite the influx of graduates in the job market, there are still certain positions which employers struggle to fill and this has only worsened during the pandemic. 
Among the professions suffering from a skills gap are programmers, software developers, design engineers, marketing associates – all of which you can complete an apprenticeship for! 
The tech industry in particular has a staggering skills deficit – with only 10% of IT professionals having the cyber security skills the UK tech sector currently needs (according to the Cybersecurity Workforce Study) 
Funding

 
With the Apprenticeship Levy funding scheme, even as an older apprentice, you won't be footing the bill to retrain. Large employers contribute to the Apprenticeship Levy and SMEs are also assisted through government funding.  
If you're aged 19 or above, you may be eligible for adult skills funding if you undertake an advanced-level apprenticeship or higher apprenticeship.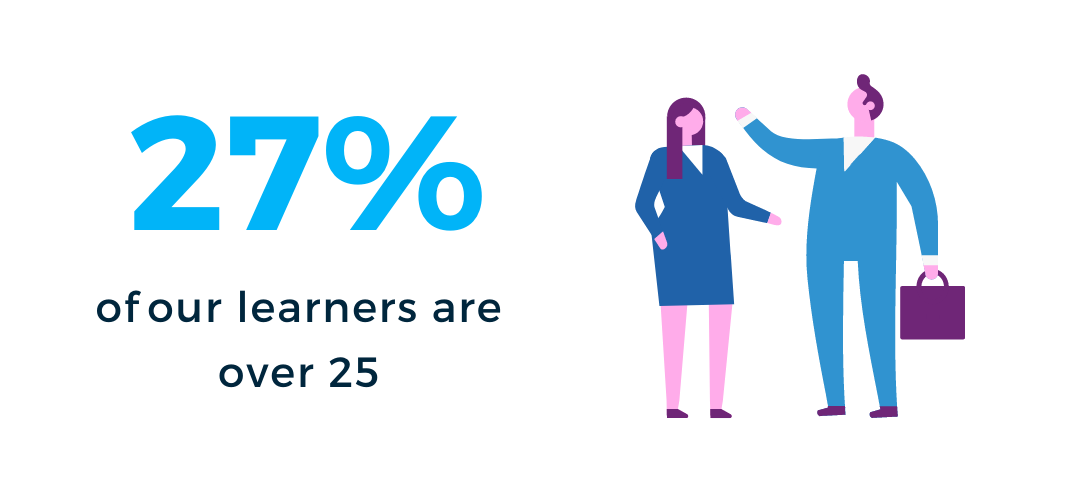 The 

Reality

– What's it like doing an Apprenticeship at age 40?
You are never too old to start an apprenticeship! In fact, there are many motivators for older candidates to choose to complete an apprenticeship. Perhaps you want to upskill in your own industry, move into a new field that requires totally different skills and abilities or you are moving from a manual role that is difficult to continue due to ill health. 
In fact, at escalla 27.1% of our learners are aged over 25, so you definitely wouldn't be alone! That number is also set to increase with more focus on continuous learning and upskilling the UK workforce - and apprenticeships are a great way to achieve this.
Completely switching careers is something entirely possible with an apprenticeship. Which is what Charles Carriere did, when he retired from a 23-year career as a finance professional into software development. At the age of 50, he was hired as an apprentice at Revelry Labs. 
Charles had been fascinated by tech from a young age but struggled to get past the intimidation of a screen full of code. This unsatisfied interest coupled with a fading appetite for the financial sector led to Charles joining Revelry Labs apprentice program – with the aim of building his skills to eventually create his own app.  
Aparna Jani joined Big Four accounting firm KPMG at the age of 36 following a seven-month career break to look after her 14-year-old daughter. 
The two-year rotational programme, divided into six consecutive months of working in different departments, such as tax and audit, gave her the experience and flexibility of working in different roles and to see which suited her best. 
She said: "The apprenticeship isn't high pressured at all, they ease you into the role. It's not at all overpowering, which is great." 
You don't even have to change your job title to 'apprentice' anybody, in any role, can complete an apprenticeship that's appropriate to their role.  
Marketing Manager, Carl from Manchester, completed a Software Development Apprenticeship. Completing this apprenticeship allowed him to learn extra skills which enhanced his perspective as a marketing manager – from being able to tap into richer marketing data, creating more engaging content to building better interactivity on websites. 
Sales Manager, Joe from Crewe, completed a Digital Marketing Apprenticeship. He found the experience "was a positive one and found the mixture in the training room of different ages gave a better mix of knowledge and feedback when working in teams and different scenarios." 
The 

Reward

 – what can I get from it?

 
The number of apprenticeships could be set to grow post-Brexit, as businesses struggle to replace qualified workers from the EU. 
Completing an Apprenticeship as an older candidate could also have double reward of not only improving your career prospects but also your employer's skill requirements – making you more valuable as an employee.  
Our Level 3 Apprenticeships are great for anyone who want to start or make a new change in their career. These include Digital Marketer, Unified Communications Technician, and new to escalla in 2021 – Digital Support Technician.  
Our level 4 Software Developer, Cyber Security and Marketing Executive Apprenticeship Standards are great options for those with some background in these industries.